Fast Track Your Yachting Career:
Seasons in the Superyacht Industry: Mediterranean, Caribbean & Elsewhere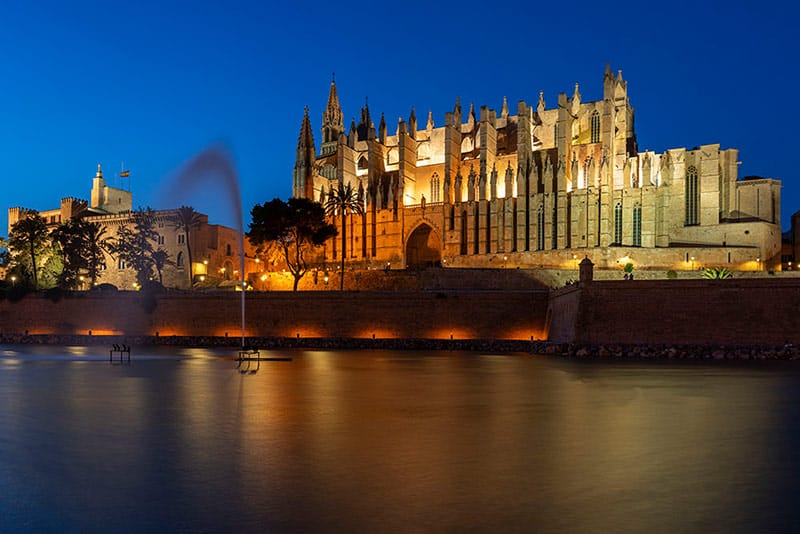 Majorca is one of the key superyacht hubs in the Mediterranean
Listen to this episode of Fast Track Your Yachting Career to find out everything you need to know about the superyacht seasons in the Mediterranean, the Caribbean and elsewhere
Transcription of Seasons in the Superyacht Industry
Roger:
Welcome to Fast Track Your Yachting Career. My name's Roger Overall. I work with Yachting Financial Solutions and I'm joined today on the podcast by Teresa, who is Yachting Financial Solutions' Chief Operating Officer, and she's also a founding partner of the YFSOL Partnership. Teresa, hello.
Teresa:
Hello, Roger. Good to be here.
THE MEDITERRANEAN SUPERYACHT SEASON
Roger:
So today's episode, we're all about seasons now. We're not talking summer, winter, autumn. We're talking the seasons in yachting, because you can break yachting, the yachting year, up into seasons. I suppose the simplest way to start is with the biggest season and possibly the most important season, and that would be the one in the Mediterranean. Is that right?
Teresa:
Yes, it would be, Roger. And that normally kicks off around Easter. So sometime early- or mid-April, normally speaking, and would continue to the end of September, possibly stretch into October. I mean, I think traditionally, what's called the Milk Run, which is basically from San Tropez in the south of France to San Remo in Italy, was the initial and traditional kind of route for the Superyachts.
And of course, what you have along that route, you've got Monaco, Antibes and so on. You've got some very lovely places to visit, some great anchorages, which obviously makes a lot of sense. And then off the coast, you've got places like Corsica of France, obviously, and then you've got the Balearic Islands, Majorca, Menorca, Ibiza.
And then you've of course, you've got the various Italian islands as well. Sicily, Sardinia, the Aeolian Islands and so on. And then as you go further east, you've got the Greek islands. Then you've got the Turkish coastline and you've got Montenegro. You've got Croatia, again with multiple islands. So from a cruising point of view, interesting places to take your guests.
You've got a lot of variety in a relatively, relatively small distance.
Roger:
I was going to say, as you were listing all those locations out, I thought, "Oh, my goodness, you needn't ever go anywhere else, really, because there's such a variety."
Teresa:
A lot of boats don't.
Roger:
Well, exactly. Exactly the point I was going to make. The boats that actually never stray beyond the Rock of Gibraltar into the Atlantic almost, because they don't need to.
Teresa:
I mean, that would be quite a lot of the smaller boats that wouldn't be built to cross the Atlantic, anyway. Now, of course, you can put the boat on a big boat and take it to the Caribbean. And a lot of people do that. But there's an awful lot of boats which basically do this six-month season because a boat always needs repairs and renovations and this, that and the other.
So basically, it's six months cruising or being available to cruise. And then the other six months, the crew or a skeleton crew are on standby and it's maybe in the shipyard.
Roger:
But I'm just wondering then, is it a case that you look at these boats and you think, well, actually, if I work on a smaller boat in the Mediterranean or a yacht that is is limited to the Mediterranean, I may only get six months out of the year in terms of work or does it not work that way?
Teresa:
It's quite possible there will be quite a lot of seasonal positions available. Most boats, even if they only do the Med season, will certainly keep a crew for the winter. But it'll be a smaller crew because the chances are they won't have guests or if they do, it would be very rarely. But it's a good way of getting your foot into yachting.
Start by doing a six-month seasonal job, or a five-month or three-month seasonal job on a boat. It's still giving you experience and the experience you get will be relevant on a boat that is working all year round. So it's a perfectly good way to start.
Roger:
You look at the Mediterranean and you look at film festivals, you look at the Monaco Grand Prix. These events, do they tend to happen during the superyacht season? Because there's a lot of wealthy people that they want to attract? I mean, are a lot of events put into that six-month window to accommodate the yachting calendar?
Teresa:
Almost some of them certainly are. You actually start with a Cannes Film Festival, don't you? You could almost say that that's kind of kicking off the season, if you like, followed by the Monaco Grand Prix and and I guess that would be a good time to charter your boat if you're the owner of the boat. Do you particularly want to go to the film festival or indeed the Grand Prix? Who knows? Not probably every year, but yes, certainly they are part of the season. There's no doubt about that.
Roger:
Most of the cruising them in the Mediterranean seems to be along the northern Mediterranean shoreline. Or is that just a misinterpretation on my part of how the industry works?
Teresa:
That's totally true. And really the reason for that is, I guess, it's with all due respect to Morocco and Algeria and Tunisia and so on, but really there's an awful lot more ports that are probably the sort of places that charterers or yacht owners would like to go.
Roger:
Where I'm sort of thinking in my own head with that: look, if you're looking to get into yachting or if you're going to be basing yourself somewhere for the Mediterranean season, it's really the European shoreline you need to be looking at.
Teresa:
I've never come across anybody that has landed a job from Tunisia or never. So I wouldn't even think of it. No.
THE CARIBBEAN SUPERYACHT SEASON
Roger:
So that's the Mediterranean season, which stretches from April all the way possibly into October, I suppose. Then the next destination to look at would be the Caribbean. And what can you say? When does the Caribbean season start?
Teresa:
I guess really the beginning of December. And I suppose we're talking about Christmas and New Year, really, and then January, February, March.
Roger:
When, even in the Mediterranean, it can get a bit chilly sometimes.
Teresa:
It is. And it wouldn't be pleasant for cruising in the Mediterranean after October, I don't think, or at least certainly not guaranteed to be.
Roger:
What happens between October then and December, because obviously it looks and sounds to me as if there's a two month window [between the Med and Caribbean seasons]. Does everybody bunk off for two months or what happens then?
Teresa:
Well, no. Obviously, if boats are going out of the Mediterranean and they are going to do the Caribbean season, then they have to get there. Bigger boats will get there under their own steam. But boats, probably 40 meters and less or approximately 40 meters, they're all going to get on something called the Dock Express, which is basically a huge boat which will take them over to the Caribbean.
And that's going to take a certain amount of time. I mean, it's going to take at least ten days to two weeks, weather dependent.
Additionally to that, of course, we're talking about a boat and it's been probably worked pretty hard during the summer and therefore probably needs some repairs, renovations, whatever, pre-Caribbean season. Yes, it would also be a time where if you've got a crew that works full time, crew would be taking some holiday.
I mean, obviously the people are exhausted at the end of the summer season. Let me change my batteries, that kind of thing. So that's the sort of thing that will be happening in that two-month period.
Roger:
Where does the Caribbean season concentrate itself or is it more spread out?
Teresa:
So it's basically a relatively small area. The major islands would be places like Sint Maarten, Antigua, Barbados, Bermuda, the Grenadines, which are Grenada and the Grenadines, which are a kind of chain of islands. And then there are other smaller islands people go to. Nevis being one, there are some other islands, but those would be the major ones.
Roger:
If you were a yachtie looking to pick up a boat in the Caribbean, could you name the top, say one, two or three locations that you'd recommend they go to?
Teresa:
If you're going to try to do that, the best place to be probably in the Caribbean would be in Sint Maarten. Second choice would be Antigua and then the third choice wouldn't actually be in the Caribbean at all. It would be in Fort Lauderdale because obviously the Caribbean is pretty close to Fort Lauderdale. And that's a very big US yachting center.
You know actually I've just sort of one very crucial island that's really popular, which is called St Barts. That's kind of the central part of the Caribbean.
ELSEWHERE
Roger:
So we've got the Caribbean season, which follows on from the Mediterranean season. But that's not the be-all-and-end-all is it? There are other geographical locations and seasons to bear in mind.
Teresa:
There's certainly other geographical locations. There's no doubt about it. There's a lot of charterers or owners of boats who want to do something a bit different. So you've got some boats, say, in the sort of Thailand area, you will have some boats cruising in the Pacific. And there's a few boats that are based in Australia, New Zealand.
And then you're looking in the Northern Hemisphere. There's some boats that I'm not saying are based there, but there will be boats, for example, cruising Scandinavia in the summer months, possibly cruising the British coastline. I've occasionally seen a superyacht on the Irish coastline, not often, but occasionally.
And then what you have is there's been a bit of a trend in recent years for exploration on yachts, so they originally tended to be converted icebreakers. The whole idea being that this is a yacht that you could basically take wherever you wanted to go in the world. And so those will be a few of those going around the world to places that very few people have seen.
And then the other thing that's also happening and possibly a little bit more than previously, there's a few boats that are focused on marine research and not a lot, but there are a few.
Roger:
I'm curious, it's interesting, we haven't spoken about the Asian season where there's yachting and superyachts going up and down the Asian coasts serving wealthy Chinese individuals. Is that coming?
Teresa:
I honestly don't know. But yes, there are definitely Chinese owners of boats. There are owners of boats from the Indian subcontinent, for example. But just because they originated possibly from China or India doesn't necessarily mean they want to cruise around that particular area. And very often they are also in the Caribbean or the Mediterranean, a bit like owners from anywhere else or charters from anywhere else, you know. I'm sure there are a certain number of boats set up moored more locally, a bit like you get in actually in the Middle East as well.
You've got boats in Qatar and Kuwait and Saudi, which are basically moored there more or less the whole time. But again, an awful lot of Middle Eastern owners of boats or charters, once they may spend time on their boats locally, they also like to be in the Mediterranean or the Caribbean, because that's really where the action is.
Roger:
I guess just for people who might be looking to get into yachting because a lot of the Mediterranean is within EU jurisdiction, does it have any benefit to have an EU passport or still?
Teresa:
Absolutely. Definitely. Definitely. Much easier to get a job with an EU passport.
Roger:
And it does the same or something similar apply in, say, the Caribbean. Does a British passport help? Or, you mentioned Fort Lauderdale, a US passport?
Teresa:
If it's a US registered boat, which it could be quite possibly in Fort Lauderdale, you probably have to be a US passport holder. If it's not a US registered boat, that wouldn't be necessary.
Roger:
Well, we hope you got some useful information from this episode of the podcast. We hope that it's giving you something you didn't know or explained something that you were wondering about. Please do tune in again to join us for the next episode of Fast Track Your Yachting Career. And until then, safe travels and safe sailing everyone.
Teresa:
Safe sailing everybody.