9 Powerful Passive Income Ideas for Professional Superyacht Crew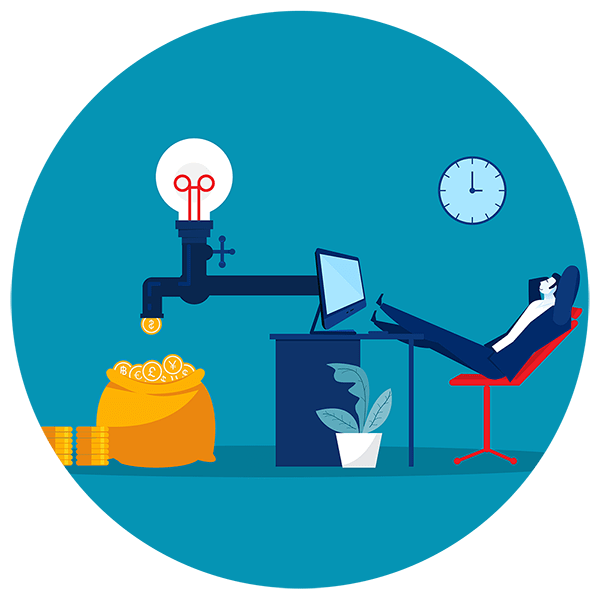 What could be better than earning money when you aren't actually working? Who doesn't like a bit of extra cash flow into their bank account? You can do so by establishing passive income streams. And most professional yacht crew are ideally placed to do just that. So let's look at not only how you can generate a future passive income to kick in once you exit yachting, but also how you can make additional income, even when you're flat out at work on the boat, or relaxing on a break.
What is passive income?
Passive income is money you earn without having to work for it every day. It's the opposite of your day job on board the yacht. To earn your salary, you have to put in the hours every day you're on board. Passive income, on the other hand, is generated by income sources you've created that can provide extra cash for you without additional work. It's like starting a business on the side that runs with minimal guidance from you.
'Passive income' doesn't mean 'income for free'. Nor does it mean you won't have to do any work. Typically, though, you'll do the work in advance and reap the future rewards on an ongoing basis. And you don't have to do it full time. You can build the assets you need to generate passive income in your spare time.
Yacht crew have a fantastic opportunity to generate passive income of two different types.
1 . Long-term core future passive income
This has to be your priority. This is income that you generate by building up sufficient capital through saving and investing during your yachting career. The interest on this capital should allow you to live your ideal life after you exit yachting. First step here would be identifying your goals and then writing a life plan/roadmap, including a financial analysis or how much you would need to save to achieve your goals. Step 2, Ensuring that you stick to your plan. This is not easy but Yachting Financial Solutions can help you every step of the way. See more here: The YFSOL Partnership.
2. Passive income you can generate while still working in yachting
When you're on leave could be an ideal time for creating the resources that will earn you additional passive income. And many of the examples set out below can be done from anywhere in the world: you can work from home or from a comfortable chair in your favourite cafe.
You can choose from a variety of passive income sources. Here are 9 ways for you to create a passive income.
1. Rent out your property
Thanks to the rise of AirBnB and similar services, you can rent out your home or flat while you are on board the yacht.
Alternatively, you could invest in a property for the sole purpose of renting it out. Many people who try their hand at investing in real estate do exactly that.
And property doesn't have to be limited to accommodation. There are also rental markets for anything from art to classic cars.
2. Rent out your space
Do you own a space in an urban area? For instance, somewhere someone who drives to work could park their car during the working day?
Do you own a rooftop? Film and event companies might be interested in renting it. Same if you have a garden. Solar energy generation companies also rent roof space to put their panels.
3. Write a Book/e-Book
One of the most popular ways to make passive income is to write and sell books. You can sell e-books via download or physical books that can be shipped to the buyer. You can automate the sending of both digital and physical books, so you don't have to do that yourself.
What could you write about? For a start, you have information that others will pay for. For instance, every year hundreds of people come looking to get into yachting, but many have very little idea of how to do so. You have that knowledge. You could write about your experience of becoming a yachtie and give practical, real-world advice on how to do so.
You can also write practical guides about other things or places you're knowledgeable about.
Alternatively, if you are fiction orientated, you could write and sell your own stories. Thousands of people do this successfully, using social media to promote their work.
4. Licence photography, film footage
If you have a camera, you can produce high-quality photography and video footage you can in turn licence. You travel the world and go to locations many other people don't ever see. There is a huge market for destination photography and footage. (Beware: it's also a very competitive market.)
The easiest way to sell your images and footage is through an agency like Alamy. Agencies will take the hassle out of marketing and payment processing. Note: they'll also take a hefty chunk of the licence fee, so there is a trade off.
You could also build your own online library, if your images were unique enough. Most website hosting companies like Squarespace and Wix have ecommerce options. The advantage is you get to keep all of the licensing fees for your work. Downside, you'll need to do the marketing and website maintenance yourself.
5. Sell prints
Maybe your photography is more artistic than commercial? Again, using an e-commerce platform, you can sell physical prints of your work, either framed or unframed. There are companies that will take care of printing and shipping for you. (Same if you draw or paint and would like to sell limited-edition reproductions.)
6. Sell Other products online
All sorts of possibilities here: You may want to design and sell your own clothing range/ workwear, handbags and other accessories, furniture etc or perhaps sell specialist foods. You're travelling the world, constantly seeing new things and ideas. Perhaps you encounter ideal producers for your ideas and designs or you discover items sold locally that could be sold to a wider market.
7. Create an Online Course
You could consider building and selling online courses. What are you really good at? What do you know a lot about? The online learning space is worth billions of dollars annually and there are plenty of online platforms that make it easy for you to build and automatically deliver online courses.
8. Affiliate marketing
Affiliate marketing is when you make an income by linking to a website like Amazon. Each time someone buys from the site through your link, you get a commission. It doesn't cost the buyer anything extra. While income from affiliate marketing has been harder to create in recent years, it can still make a worthwhile contribution to a broader passive income strategy.
This method is tried and tested by bloggers especially. But blogging requires you to post on a regular basis to keep your audience coming back and search engines interested in your blog. However, you don't have to post daily or even weekly. And you can write and schedule posts in advance during quieter periods so they appear on a consistent basis, even when you are run off your feet on board.
9. Advertising revenue
If you own a blog or produce a regular video or podcast series, you might be able to monetise it by having adverts placed with your content. Many YouTubers earn money this way, although, like affiliate marketing, it has become harder to earn significant amounts through a YouTube channel. Nevertheless, it could be useful as part of a wider passive income plan.
Those are 9 ideas to get you started. But maybe you've figured out another way to earn passive income that we haven't covered here? We'd love to hear from you if you have. Or maybe you'd like to start earning passive income in the future by building your wealth today?